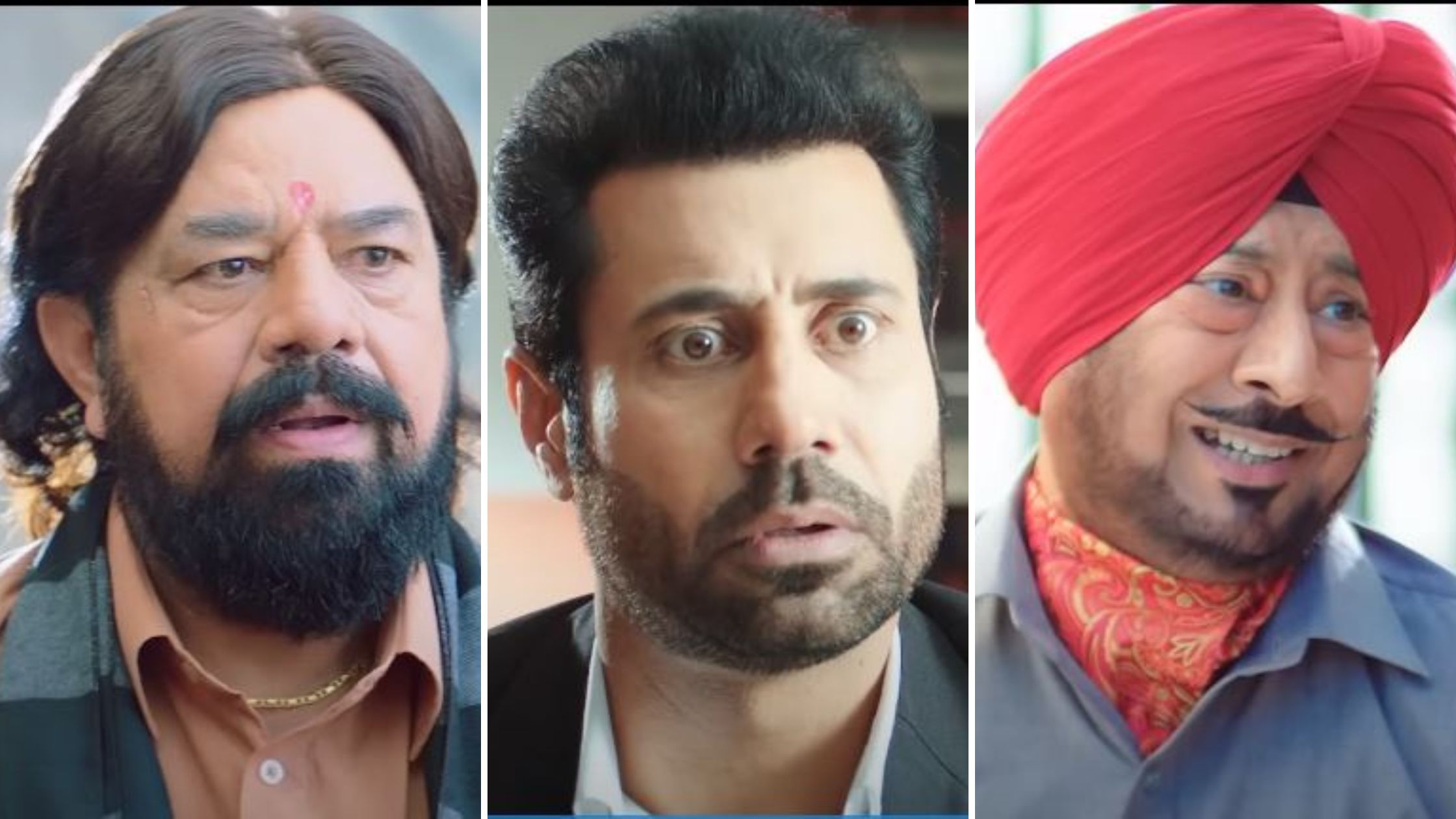 Punjabi comedy movies have become a staple source of laughter over the years. And the credit for this goes to super-talented Punjabi comedians. Yes, you read it right!
It is their unique style, comic timing and flawless dialogue delivery that can fill you with joy. Their comedy and acting talent has helped the Punjabi film industry gain global recognition.
Want to know about them? You don't need to go anywhere as I have jotted down the names and brief details of Punjabi comedy actors here. So, read on!
1. Jaswinder Bhalla
Famous for his superb comic timing, Jaswinder Bhalla needs no introduction today. After his comedy debut in 1988 with Chhankata 88, he has come a long way. And he remains the filmmakers' first choice for casting in Punjabi movies
His punch lines in Punjabi movies get repeated by people in their daily routines. He is one of the best Punjabi comedians due to his innate comic talent and an inspiration for budding comedy actors.
Ever since he appeared in his first film, Dulla Bhatti, there has been no stopping for Jaswinder Bhalla. In his career, the 63-year-old actor has done many stage shows, comedy series and films in the Punjabi language.
His famous works include Jatt & Juliet, Carry on Jatta, the Chhankata series, Naughty Baba in Town, etc. Even in his 60s, Jaswinder Bhalla works diligently to make the audience laugh with his acting and comedy.
2. BN Sharma
Badri Nath Sharma, known as BN Sharma, is a magnificent Punjabi comedian and actor. After beginning his career as a constable, he dived into the theatre world to pursue his passion for acting.
Thanks to his unique way of dialogue delivery, he leaves footprints on the minds and hearts of people. His works in hit shows namely Flop Show, Ulta Pulta and Full Tension, helped him enjoy his name on the list of Punjabi comedians today.
Due to his splendid comedy works, BN Sharma also got opportunities to work in Jatt and Juliet 1 & 2, Carry on Jatta film series. And he has done full justice to his comic roles by making people love madly.
The Punjabi comedy actor speaks about the new-age Punjabi cinema and shares his insights about it from time to time.
3. Binnu Dhillon
Famous for his phrase "Kaato Kahtooo" and his hand gesture in the Carry On Jatta film, Binnu Dhillon is the soul of the Punjabi industry. Filmmakers compete with their counterparts to take him into their films. And it's because of his great comic ability, acting and dialogue delivery.
Passionate about comedy since his early age, Binnu opted for PG in theater and television to learn about it. And then continued to display his talent with his theatrical works during his university years.
Eventually, it helped Binnu Dhillon get a role in many television serials. His efforts paid off and helped him become one of the most famous Punjabi comedians of all time.
During his career, the comedy actor has been a part of many hit Punjabi movies like Carry on Jatta, Raula Pai Gaya, Lucky Di Unlucky Story, Vekh Baraatan Challiyan, etc. What's interesting is he has excelled not just as a comedy actor but also as a producer and director.
Apart from this, Binnu Dhillon had a stint in Hindi films namely, Shaheed-E-Azam and Dev D. Recently, he announced the beginning of the shoot for Daddy O Daddy, his upcoming film.
4. Gurpreet Ghuggi
Punjabi comedian Ghuggi came into the limelight with his comedy videos titled Ghuggi Junction (2003) and Ghuggi Shoo Mantar (2004). Additionally, he became popular after his appearance in The Great Indian Laughter Challenge, a reality show.
His ability to make people laugh helped him kickstart his career with the film, Asa Nu Maan Watna Da (2004).
From there on, there is no stopping for him as he has been a part of popular films like Carry on Jatta 1, 2, 3 and Ardaas.
What's special about Gurpreet Ghuggi is he has gained popularity among Punjabi comedians due to his comedy. Also, he has built a strong image in the acting world with his serious roles in the cinema.
One thing that sets him apart from other Punjabi comedy actors is his choice of diverse projects for his work.
Instead of just sticking to comedy videos, he tried talk shows, and reality shows and even participated in Bollywood films. That's what has helped him spread his humorous touch to different areas.
5. Jaspal Bhatti
Another name on the list of Punjabi comedians is Jaspal Bhatti. Yes, he was a great satirist who knew how to display the problems of a common man on screen.
Have you watched the TV series Flop Show? Well, it you haven't, do watch it. Just a 10 episodes series but it is still remembered today for its content.
Apart from it, Jaspal Bhatti also made TV series namely, Full Tension and Ulta Pulta on Doordarshan. Popular as "King of Comedy" and "King of Satire", he raised various corruption issues in his works to aware people of them.
Besides, Bhatti was also a part of movies namely, Punjab Police Mahaul Theek Hai, Fanaa and Koi Mere Dil Se Poochhe. His performance in the comedy Punjabi film Jijaji also received appreciation from the audience.
Jaspal Bhatti was a complete package of humor and satire due to his comedy skills. And he possessed the art of displaying those skills on the TV screen.
For his contribution to the Punjabi entertainment industry, Mr. Bhatt received the Lifetime Achievement Award (at Golden Kela Awards) and was bestowed with Padma Bhushan by the Govt. of India.
In 2012, the Punjabi comedian's untimely death left an unfillable void in the Punjabi comedy world.
6. Harby Sangha
Known for his jolly nature, Harby Sangha has become an inseparable part of Punjabi comedy movies. Due to his great comic timing and style, Harby has become one of the sought-after Punjabi comedians of today.
In his film career, he has shown his comedy talent in movies namely, Nikka Zaildar, Carry on Jatta 1, 2, 3, etc. What's special about him is his willingness to interact with his fans via his Instagram handle and share his personal life moments.
It is his passion for comedy and acting that made him participate in comedy plays during his school and college years. Not many people know that Harby also has a singing talent.
7. Karamjit Anmol
Destiny had a different plan for Karamjit Anmol as he wanted to become a singer but ended up becoming a comedian. But it turned out to be in his favor and today he is counted amongst the top Punjabi comedy actors of all time.
Nephew of renowned singer Kuldeep Manak, Karamjit has released many hit tracks and acted in many Punjabi comedy films. His popular films are Laavaan Phere, Carry on Jatta, Bambukaat, etc. Without a doubt, he is a great supporting actor in a comic role.
Recently, Karamjit Anmol donated paddy plants to farmers to support them after they lost paddy crops.
8. Upasana Singh
Upasana Singh is a versatile Punjabi comedian who has done great work in many Punjabi movies. She has years of experience in different entertainment industries.
From Bollywood to comedy serials and now Punjabi movies, Upasana Singh has carved a special place for herself with her work.
Her character of "Bua" in the Comedy Nights with Kapil show highlighted her immensely. Now, she is doing a great job in Pollywood and has taken her place amongst the top Punjabi comedians.
Her funny English dialogue delivery and comic style make her presence a treat to watch for her fans.
9. Vivek Shauq
A multi-faceted personality, Vivek Shauq, was a popular actor, comedian, writer and singer. Not just in Hindi cinema, he also contributed to Punjabi movies with his comedy acting.
Shauq began his career with Jaspal Bhatt and showed his comedy & acting talents in Ulta Pulta, Flop Show and Full Tension. After gaining popularity from Gadar: Ek Prem Katha, Vivek got plenty of roles in many films.
His film projects such as Delhi Heights, Aitraaz, Asa Nu Maan Watna Da, Mini Punjab, Nalaik, etc, helped him grow well. Sadly, Vivek lost his life due to cardiac arrest in 2011.
10. Rana Ranbir
Though not so tall, Rana Ranbir has achieved great heights in his acting and comedy careers. He began his comedy career on television with famous comedian Bhagwant Mann. And now, he is a famous name among all the Punjabi comedians till now.
TV shows like Jugnu Mast Mast and Naughty No. 1 kickstarted his career greatly. From there on, there was no halt for Rana as he became part of many Punjabi movies.
Along with comic roles, he also excelled in serious roles. As of now, Rana Ranbir has been a part of many hit Punjabi films. Some of them are Munde U.K. De, Vaisakhi List, Paani Ch Madhaani, etc.
11. Bhagwant Mann
Currently serving as the CM of Punjab, Bhagwant needs no introduction to people of any age group. Popular as "Comedy King" and "Jugnu", he would participate in youth comedy festivals as well as inter-college competitions.
Hence, this helped him form a strong foundation for his comedy career. Mann's earlier shows include Jugnu Kehnda Hai, Jugnu Mast Mast, No Life With Wife, Jugnu Hazir Hai, etc.
Also, Bhagwant Mann appeared in the Great Indian Laughter Challenge and impressed people with his laughter riot.
His comedy timing and dialogue delivery style gain people's attention immediately. From his journey as a comedian to Punjab CM, his words remain full of humor and wit.
12. Honey Mattu
A young Punjabi comedian, Honey Mattu has become famous due to his acting and humor. His comedy can fill anyone with joy and make him laugh madly.
Until now, he has been a part of Punjabi movies namely, Sargi, Qismat, Guddiyan Patole, Paani Ch Madhaani, etc. His dialogue delivery style and facial expressions balance any movie's content completely.
Conclusion
So, these are the top 12 Punjabi comedians who showcase their unique comedy style and wit to their audience. Filled with exceptional talents, these Punjabi comedy actors know ways to tickle their fans' funny bones.
Whether it is their perfect comic timing or relatable content, people want to listen to their jokes and laugh out loud while enjoying their time.